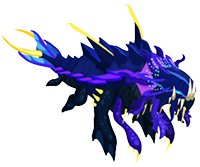 Can't get any better than this! The only way to get one of these awesome monsters is to win in the events! You have to be the best of the best! Only the very top players and troops win these monsters! Find a high ranked troop and/or work your way up the ranks. Be VERY active in events!
Max Level: 90 | 100* | 110**
A star (*) indicates an evolved form, (**) indicated a third evolved form.
Monster
Attack
Health
Recovery
Feed

Value

Found
Dreadgnat
Dreadator*
ApexDreadator**
Goldcritter
GoldenRegal*
Goldensummit**
Entchanter
Enturion*
Entaur**
Bunderbuss
Bundam*
Bundertaker**
Bunnysundae
Sundaemon*
Sundaebest**
Pixster
Prettypixster*
PixsterPerfect**
Frightgeist
Bipolargeist*
Moldergeist**
Sarcopharoah
Sarcomagus*
Sarcorpion**
Sasquish
Sasquash*
Sasquake**
Knightstallion
Flightstallion*
Lightstallion**
Leviathan

Devilathan*
2222
17913
1872
855
Event Reward
TruEvilathon**
Monstronaut
Monstellation*
Monstularity**
Baldor
Thordur*
Gnatinum
Predinum*
PremiumPred**
Trixster
DirtyTrixster*
MagicTrixster**