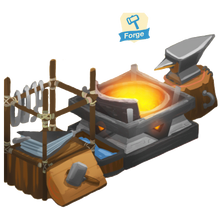 Summary
Most monsters can use special equipment once they reach level 15. There are three different kinds of equipment offering different boosts in battle. Weapons boost Attack, Armor boosts Health and Accessories boost Recovery. Which kind of equipment a monster can use depends on its rarity. The rarer the monster, the more equipment it can have.
You get new equipment by forging it in the Troop Hall. This will require plans for the specific item you want to create and a certain number of shards.
Plans can be purchased in the Troop Shop and the Crafting Shards can be obtained by battling monsters in Turtle Falls and Spring Clearing.
Equipment can also be upgraded to new, more powerful forms (similar to evolution). This requires new plans, Portable Anvils and Upgrade Shards. Plans and anvils are available in the Troop Shop. Upgrade Shards can be won from monsters in Rocky Ridge, Mt. Magma and Lost Temple.
Once forged, you can add equipment to a monster by tapping the corresponding equipment slot in Management. Equipment also loses durability with each battle and once it's broken, all stat boosts are halved.
You can repair equipment though for a small cost of stones at the forging station at the Troop Hall.
Screenshots
Trivia
-Equipping and unequipping your monsters both require a cost of stones.
-The rare monsters found in Camp and Teepee Hollow can't use equipment.
Frequently Asked Questions
These are frequently asked questions that relate to Equipment and Forging.
Q: Where do you get Crafting Shards?

A: Get level 1 Shards from Turtle Falls & Spring Clearing, & level 2 Shards from Rock Ridge and up.

Q: Where do I get Mission Items?

A: You can get them from Digging at the Dig Site

Q: Where do I get Jewels?

A: Get them from Digging at the Dig Site and the Troop Shop. Upgrade them in the Troop Hall.

Q: Where do I get Plans and Anvils?
Ad blocker interference detected!
Wikia is a free-to-use site that makes money from advertising. We have a modified experience for viewers using ad blockers

Wikia is not accessible if you've made further modifications. Remove the custom ad blocker rule(s) and the page will load as expected.